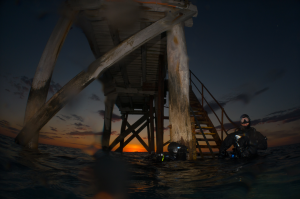 READ OUR SUBMISSION TO THE SA Department of Planning, Transport and Infrastructure (DPTI):
SDFSA DPTI jetty submission 2020
The SDFSA was invited by DPTI to prepare a written submission on what should be considered in a State-wide jetty management plan. Jetties are important structures for the sports of scuba diving, freediving and snorkelling as locations for training, unique dive experiences, marine citizen science research, and underwater photography. They are also easy dive sites for those with disabilities. The State's jetties serve a South Australian diving community of 50,000 certified divers. They have the potential to attract thousands more from a global community of 28 million active divers. We have submitted 4 recommendations:
Put in place a standard for a safe and useable jetty and maintain jetties to that standard. That standard should consist of:
Safety and accessibility: Good design of wide stairs with non slip treads and handrails, and subsurface platforms; Availability of safety equipment (life buoys, etc.); Discourage the potential presence of sharks (enforcing rules against dumping unused bait, etc.); Clear signage and enforcement of rules (eg, no spearfishing); Consider accessibility for disabled persons taking up the sport.
Related amenities to support divers: Adequate parking near jetties, benches for gearing up and places to lock gear trolleys near jetty stairs; Shade/sun protection, seating, toilets and fresh water sources.
Ecosystem protection considerations: Enforce littering fines for those who damage the ecosystem by allowing plastic bags and other debris to blow into the water; Consider ecosystem impacts of changes to jetties (damaging ecosystems through the removal of pylons; ensuring jetty surfaces allow light penetration below).
Priority jetties to address: Edithburgh, Port Hughes, Second Valley (stairs, accessibility); Edithburgh and Rapid Bay (amenities), Kingscotte and Vivonne Bay jetties (revitalizing tourism); All jetties, but Second Valley and Rapid Bay in particular (signage).
Address impediments to jetty maintenance: Repair jetties in a timely manner; Consult with stakeholders when major works will be done on jetties that might irrevocably change their character (such as removing pylons or resurfacing with materials that block sunlight to waters below); Put mechanisms in place for long term funding.
Invest in research that will increase our appreciation of the value of the SCUBA industry to the State economy, and find ways to promote SA diving nationally and internationally.
Read the summary and details of our recommendations in the attached report:
SDFSA DPTI jetty submission 2020
Photos courtesy of Chelsea Haebich.